Since she joined our team… OVER A YEAR AGO!! Kezia Antholyka has become an indispensable individual at both of our daycares, where she assists with the admin, manages the marcom, and always has a smile to share with kids and teachers.
She tackles technology, makes movies, and imagines beautiful images for our event posters, and most recently, she's has also led our environmental efforts.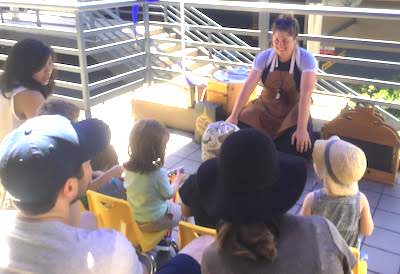 Her Summer Time Rhyme Big Kids Club Class, Ocean Motion, is taking the kids on a deep dive into what it takes to keep our seas healthy and she was the head planner for our interactive pollinator party on June 14, with Hives for Humanity. Not to mention her Gardens Grow class last season, about sustainable food.
Finally, she's also taken on the shipping and delivery of our never-ending food pouch battle.
We recycle pouches! … but it's not easy
Through the TerraCycle pouch recycling initiative, Buddings is a registered drop-off for the food pouches that keep kids happy, but can't be processed in our city.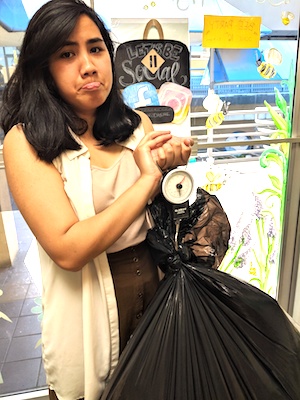 When we have 15lbs of pouches, we ship them for free to Ontario, where a special facility can melt the aluminium-lined plastic down to be remoulded for other uses.
Our last shipment was in April, and several families are bringing them in as well, but 15 lbs. is a lot of pouches, and while the weight in fruit flies seems like we should be well over… we're not.
Kez keeps the count, and you can help her, by collecting them from friends, and bringing them to Buddings! The more often we can ship out, the more often… we can start again 🙂
Whether saving the world, one pouch at a time, or teaching the next generation to love it a little more, Kezia has her green thumbs up!
Join her on Fridays this summer at Broadway for Ocean Motion, at Storybook most other days, or send her a note at kezia@buddings.ca.