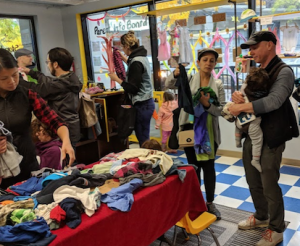 On Oct. 20, we were proud to host the Top 10 Swap, with over 120 participating families! Seriously!
Luckily, Storybook Buddings could handle the crowds, and the team managed to hang, drape, fold, and display approximately 10,000 pieces of kids toys and clothes. It was amazing to see, and it was packed up and out of there in just a few hours!
THANK YOU FOR COMING!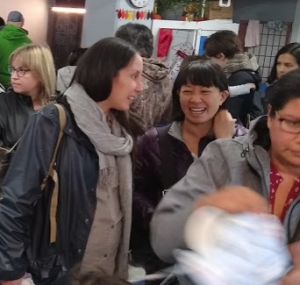 In fact, we didn't count the clothes as they went up, but we did keep track of how many pieces went out the door, and that number was 1,094! Since we had 24 black garbage bags donated to Big Brothers of Vancouver at the end, 10,000 doesn't seem unreasonable. Some of this stuff is very small!
Our new neighbours up at 1490 Kingsway, the Jackson's General Convenience Store had provided a gift certificate for one lucky swapper, and the winner is Sarah Elkins, whom we will notify by email, but we loved this event because everyone came out happy.
Special thanks to Anna Hasonova, Aïda Soldevila, Karth Suthendran, and the whole team at Buddings for your efforts. The next one will be in April. Join our newsletter to stay tuned.