November 19, 2017
Written by Talia
The Physics for Preschoolers class on Fridays through the fall went according to my best hopes! Hearing the kids talking about "pendulums," "gravity," and "velocity," and even more importantly, identifying these forces in real life.
We looked at pictures of pendulums in nature, like a hanging branch, when the wind causes it to rock – but only until gravity pulls it down.
We made parachutes, a zipline, a pendulum (actually, TWO pendulums), a trampoline… crystal eggs… what else?
Plus! Fridays have been one of the busiest afternoons, with half a dozen "regular" buddies and our usual passing-through-crew of flexible friends. And Kez, Ayumi, and Tomomi, of course!
As you can see on Instagram, the #BKCAllFallDown season has been a blast. This G-force Physics class was one of my more ambitious topics, but for the last two years, almost every season has been my favourite. Sharing my love of inventions, construction, science, animals, and mysteries with the kids has been beyond rewarding. Especially the sciences!
We have an amazing winter program lined up, and with Ayumi and Tomomi joining the permanent staff (it's been three months already!), we also have an awe-inspiring team of teachers to present it.
There's no room in the week for me to teach a class next season, but I have another project to tackle instead:
Storybook Buddings: I got the keys!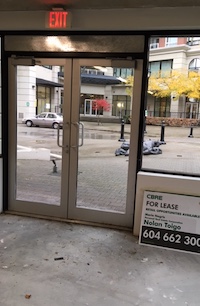 This week, I pulled the For Lease signs down at the still-embryonic Storybook Buddings, at 1438 Cedar Cottage Mews, in East Vancouver.
There's plenty of development to be done in the next 12 weeks, city permitting, and it happens according to a schedule all its own. The centre-to-be has a brand new Instagram account, and… that's about it…
To get the doors open by Mar. 1, 2018, I'll be spending my Friday afternoons this season at the site of science-to-come…
Hopefully the kids at Storybook Buddings are into science…


October 15, 2017
Written by Talia
Another fall season of Big Kids Club for Preschoolers, and even though this is my third year leading classes, this September, I had a big surprise. Again.
We called the season #AllFallDown, and one of the biggest things to drop this season is the average age of the kids in my class. In the summer, it was 4.5, and now that all those Big Kids are in Kindergarten, the new crop of afternoon kids are all around 2.
My class is supposed to be about Physics, and forces, and engineering, and since our afternoon program of play and learning is inclusive (for "Big Kids of all ages"), we've been tackling the topic from its foundations.
In retrospect, I think I should have called this class "Anti-gravity," or "Gravity defying," since the rest of the lessons and experiments have all been about staying up. How strong are eggs? Did you know the curved shape helps  to distribute the weight of heavy mama chickens, so they can sit on them without breaking?
How else can we protect things from breaking? We watched videos on our new projector wall, and then set about testing our theories. On our gang of mini-crash-test-kids, who were strapped in, tossed out, and sent zipping down the lines, helping us to explore the wonders of drag (via parachute), slope, and velocity (a la zipline).
The classes are about experimentation, and that's definitely been our experience!
There are more pics, and some slow-mo videos on our Instagram feed and you don't have to have an account to see them! Just click here.
If you're wondering, the eggs did break when Ron stood on top of them. The light-weight potato bag plastic parachute worked much better than the others, and the zipline works best with a steep slope. Maybe you could have guessed all three results, but the fun isn't in finding the answers. It's in the journey.
Join us next Friday when we discover even more amazing aspects of eggs. See you then.


September 7, 2017
Written by Talia
Science, Technology, Engineering, and Math
Among educators of young children (primarily women), they are collectively called either: STEM; or…
A preschool program plan that is about to go over a cliff…
I sure hope this 'chute opens…
I will be the first to admit: science is not my strong suit.
Unfortunately, that fact is related to my near-incomprehension of complex mathematics.
And it gets worse… for someone who designed and manages a web-based admin system, I'm not even super confident with technology, to say nothing of engineering. I have always been "artsy."
So what makes me think I should teach a Big Kids Club class about physics? About gravity? About science?
I don't know anything about those things…
Three reasons to take a flying leap:
It is so important that children, and women, and everyone, get familiar with technology and science if we are going to steer our way forward in the changing world.
Kids love to watch things fall down. Gravity, speed, velocity, and acceleration are behind everything we experience, and our evolution has programmed preschoolers to want to know more about the physical forces and rules.
Big Kids Club is about learning through play, and learning together. So even though I don't have all the answers yet, my understanding of technology has at least taught me where to find them. On the internet, of course!
The Big Kids are superheros!
When children, especially girls, are taught to build, figure, study, and predict, they learn the fundamental skillset they need – to save the world!
The world needs scientists, and engineers. We need innovative technicians who understand that our existence is ruled by forces we can't see, even though they govern everything about our experience.
So this season, we're going to experience them. We're going to play with them. We're going to drop eggs, and roll balls, we're going to experiment with slope, and angles, faster, slower, over surfaces and through elements. We're going to Learn through Play – making predictions, and validating our ideas.
Taking our learning to the streets
We have three fieldtrips, starting next week, when we explore the physical possibilities of our bodies, at Origins Parkour.
We're also going to build a zipline and maybe a trampoline.
We're going to new heights, and we're going to come straight back down.
Because at the end of all this, the one thing in this world that we will know to be absolutely certain, is that what goes up, must come down.
That's what gravity, and G-force Fridays, are all about.
From September to the end of November, from 1 – 4pm.
It's STEM. It's physics. It will be fun!
Join us!