Step 1) Login to your Broadway or Storybook Buddings account.

Step 2) Click on the Packages tab at the top-right of the page.

Step 3) Select the buddy and month for which you wish to purchase hours.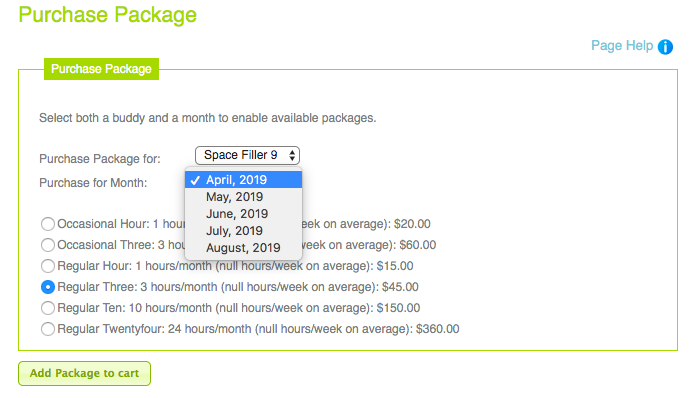 Hours are attached to a buddy and a calendar month.
Click the dropdown menu to purchase hours up to four months in advance. Please note that the website defaults to the current month unless you click the menu to select another.
Step 4) Add hours to your cart by selecting a package of hours and clicking the 

 button!
You can mix and match packages to get the exact number of hours you'd like. Select one package, and add it to your cart; then, select another package, and add it to your cart…and so on, and so on!
Please note: Occasional members may purchase Regular hours to switch membership for one month only. The regular membership fee ($60) will be retroactively billed for the month.
Once you've got your desired number of hours…
Step 5) Click the

button!

 Punch in your credit card information and click the 

button.
Congratulations, you've just added hours to your Buddings account!