Codie Shiels and her partner had been in Canada for less than a month when the Covid-19 pandemic was declared. Codie is Irish, but instead of ducking out on her planned adventure in Vancouver, she tucked in, and in the first week of having her at Buddings, we can see that's her natural response to challenge! She's literally up for everything.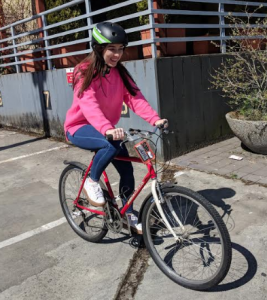 ... Including trying her hand at bike commuting from Commercial Drive, when we asked her to avoid using transit for the next little while. Here she is on her first bike ride in a decade:
Maybe her jump-up-and-go attitude comes from her 20 years of Irish dancing, which she began when she was 3 years old, and earned 3 world championships. As a dance coach, she was responsible to chaperon her team on international competitions, but it was her idea to develop a wellness website to help dancers cope with the pressure. She's been a mindfulness coach since 2019, and worked as a mentor through Reach Out for kids with challenges in school. 
Codie has the confidence of having mastered a talent, and the heart and sensitivity to bring up those around her. Plus, with a Science Degree in Psychology from John Moore's University in Liverpool, including Developmental and Social Psychology, she has an understanding of what makes people tick. 
As we move into uncharted territory this spring, re-establishing norms in a post-corona time, Buddings is lucky to have gained such a talent. Welcome, welcome Codie! We're so glad you're here!