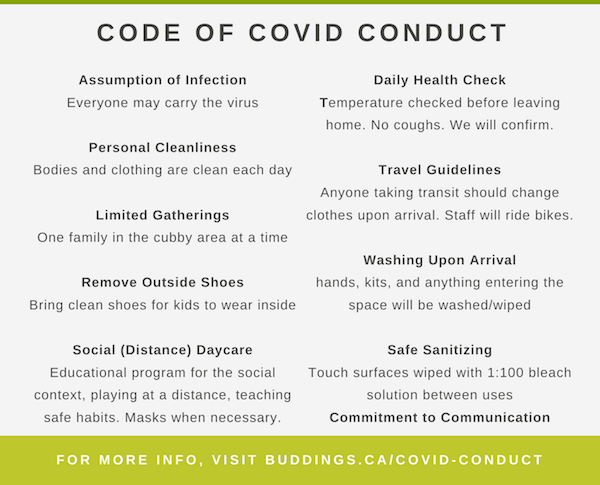 What it means:
Assumption of Infection: we will treat everyone as possible coronavirus contact, maintaining distance, washing hands regularly, and being ever mindful of our possible contamination.
Daily Health Check: prior to entering our facility, everyone should take their temperature. We ask that anyone with elevated temperature stay at home, and in isolation. At this time, we cannot accept children with cough symptoms. A health declaration will be available for signature on drop-off.
Personal Cleanliness: all clothing items should be laundered before being worn to Buddings, and bathing before leaving the house for daycare. 
Travel Guidelines: our staff will walk, or use bicycles or private vehicles to travel to daycare. Families who use public transportation should provide clothing for children to change into upon arrival. Please consider making Buddings the first stop on your route.
Limited Gatherings: only one family should make use of the cubby area at a time. Please plan to arrive and depart at staggered intervals, and wait until the area is clear before entering. 
Washing Upon Arrival: Only children and teachers will enter the playspace, washing hands immediately upon arrival. Parents should place children's food, water, and bathroom kit in the black tote for sanitizing wiping. Fabrics will be sprayed with a sanitizing solution.  
EVERYONE WILL REMOVE OUTSIDE SHOES BEFORE ENTERING THE PLAYSPACE
Parents and children can wear their shoes on the mats. Please change children into clean shoes on the chair and bring them to the gate. A teacher will meet you there.
Safe Sanitizing: All touch surfaces, containers, and materials will be sanitized (with a bleach and water solution of 1:100) between uses, and documented daily. A limited selection of toys will be available, to be removed for cleaning, and replaced with sanitized toys as necessary. The space will be professionally cleaned and sanitized three times per week. 
Social (Distance) Daycare: We will provide educational activities that encourage individual play and learning. Small selections of toys are available at a time, to be removed and replaced with clean toys as necessary. Our program will teach children how to keep themselves safe in a social context. Masks will be worn when physical distance is not an option.
Commitment to Communication: if you experience tiredness, fever, or coughing, after being at Buddings, please let us know. We will notify attending families so they may take appropriate responses. If you have questions or comments about this Code of Conduct, please contact Talia Erickson.