Values-Based Buying
Our commitment to sustainability informs all of our practices: from art materials to hand towels - but nowhere in our daily decision-making do we encounter more opportunities for global mindfulness than through our food.
Sourcing healthful ingredients, supporting local producers AND ecological sustainability, avoiding waste, and then composting (or recycling) the rest is everyone's job, but teachers have the extra responsibility of, well, teaching.
When we take responsibility for the products we pay for - and demand better from manufacturers - the dollars we spend become directions for the world we want to see. In Canada, the logos below mean sustainability is part of the recipe:
Our snacks are always vegetarian!
Buddings follows Canada's Food Guide, which recommends a balance of nutrients, proteins, and minerals. The amazing chart below shows how knowing where food comes from, and how it's produced, make a difference on their impact.
We choose to use lower impact foods, including protein, and that means... 
... Buddings is NOT nut-free
Despite their easy-pleasey protein kids love, North American schools and daycares frequently ban peanuts for the risk they pose to children with life-threatening allergies. In fact, peanut allergies make up almost half of known allergies at Buddings, and 80% of the life-threatening allergies, but to give that some perspective, more than 3,000 children have passed through the Buddings daycare doors since we opened in 2011, and less than 100 of them carried medication for anaphylactic peanut allergies - 3.3%. Presently, 6% of our kids carry epinephrine, whether for a known allergy, or as a precaution.
We also care for kids with anaphylactic wheat, egg, and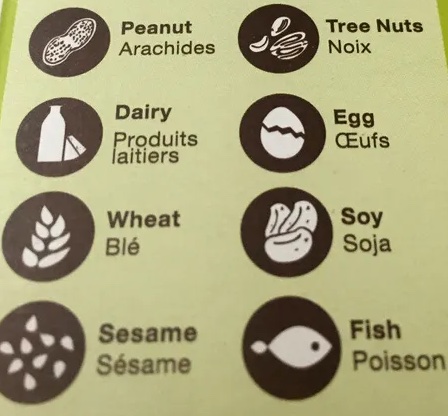 seafood allergies (present: 2%, 1%, 2%, respectively), dairy sensitivities  and various fruit allergies. Not surprisingly, those are some the top 8 allergens, according to Health Canada.
Instead of simply banning risk-foods, Buddings has protocols in place to protect all the kids from all life-threatening allergens, and when families give us instructions for their children, whether allergy, sensitivity or simply a preference, we follow them.
:Daycare Directions
In 2021, we started asking all our active members to specify what they want their kids to eat, beyond what may cause allergic reactions. As you see, below, meat and fish are the most commonly avoided food, followed by eggs, dairy and peanuts, and tree nuts. (You can find our Daycare Directions form on the Forms page.)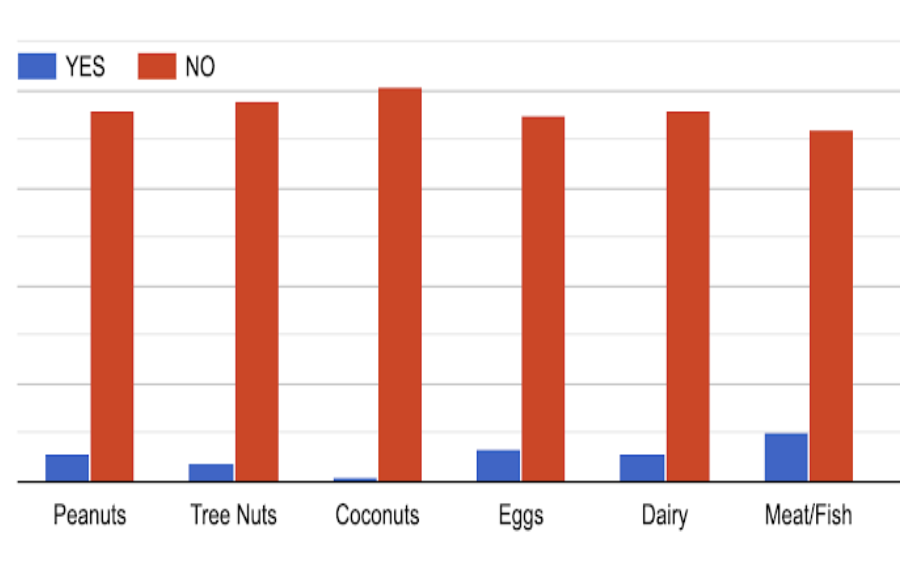 Seeds, sugars, and soy were also commonly avoided foods, but the chart gets too long for the website... 
Suffice to say, whatever food, product, or requirements you have for your children, we have a form for you! 
Keep it up to date and keep the communication flowing, for fun and safe snacking!