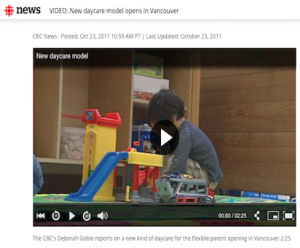 When we opened in 2011, the Occasional Child Care license was brand new. No outside space required, broader care perspectives, and a double-wide age range, capped at 40 per month. And ineligible for subsidy. NO EXCEPTIONS.
Buddings was the first centre to use the license to offer flexible booking (as reported by the CBC at the time), and possibly the first centre to offer flexible one hour's notice childcare in North America.
Fast forward...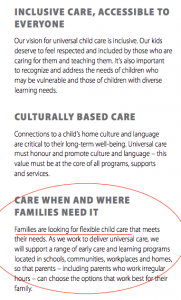 In 2018, BC elected the New Democratic Party and BC Greens  to legislate the province, thanks in part to the support from families engaged by the promises for childcare reform. Premier Horgan acknowledged the need to expand care options, fund quality programs, and make them more affordable, especially for low and middle-income families. He highlighted "flexibility" specifically.
We're excited to see movement on some of these initiatives, and before policies are decided, we want to make sure the promise to expand flexible services also includes expanding the affordability to them...
"Us," I should say.
Buddings isn't alone anymore, but regardless of how you define it, there aren't many "flexible" childcare centres.
Shared licensed programs like Buddings, Wolo, Blackbird, and Burnaby Family Life serve many, many, many more families than conventional full-time centres. If the same fee relief and support were available, even more families might choose to attend flexible programs.
Since 2011, we've been telling families what the government has told us: that subsidy doesn't apply to occasional care. They haven't bothered to apply for the relief, and they may have decided not to apply to Buddings, as well. And nothing has changed.
For 2019, we want to try something different:
The application forms for the childcare subsidy don't include Occasional Care as an option. The questions don't reflect flexible use, and the fee options don't include hourly rates. So we don't know how many people could be affected.
DISCLAIMER: At this time, Buddings families are not eligible for childcare subsidy or tax benefits, regardless of annual income. We cannot guarantee any response, or change to public policy, at this time. One more time: WE DO NOT QUALIFY FOR SUBSIDY...
But if you'd like to help us change that, fill in this form and send it in... or let us do it for you!
Despite the premier's promises last year to work on the problem, and our willingness to help, despite meetings last summer between Buddings and the Ministry of Children and Families, and the Childcare Minister, Katrina Chen (contact her here), we are still waiting for action. View the CBC news call-out from last April.
So let's push a little...
If your family is eligible for subsidy or tax benefits (use the calculator to find out how much), and use the subsidy eligibility letters above. Let's demonstrate how many families would be affected by government attention to this issue.
By faxing the forms! 
If you do send them in, please send an email to us at Buddings to let us know! We'd love to hear what response (if any) you receive, and at the very least, will keep a count of interested families. If you'd be willing to speak to media, definitely let us know.