Wednesday Big Kids Club in Fall 2018 is Awesome Autumn.
Autumn is my most favorite season in a year. That's because we can see the changing the seasons from summer to winter with the view of the autumn leaves and changing trees on the crisp. There are also some events like Halloween. And I feel like I'm really ready to plan for Chrismas and New year!
This Autumn season "Fall in love", I will teach how we can play with nature, and I would like to talk about the eco-friendly products as well.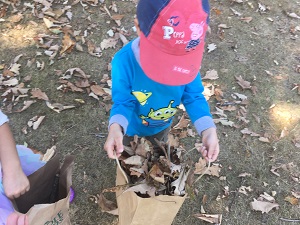 Where would you go? When you want to get something to play?
To a toy shop? A shopping mall? Why don't you go to a sidewalk close by or a playground to pick some leaves, branches, and pine cones? It would be a game of the treasure hunting, and a great discovery for kids. There are so many kinds of shapes and colors of leaves, soft or crispy, thick or thin branches, small or big pine cones. We can touch, smell, hear, and feel them. I believe these things will stimulate children's imagination and the development of their brains. And also it's free to find them around us! No wasting and the eco-friendly activities will be the best for ourselves and others!
At the first Big Kids Club in this season, We went outside to pick the nature material, and tried to put them on a paper plate.
"Let's put leaves on the plate! Wait! How can we put them?" I asked kids.
" We need glue!" Said kids.
"Alright! We will make a homemade glue!"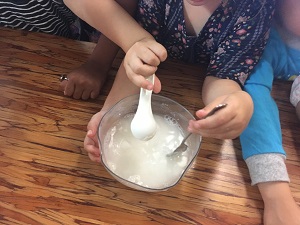 Of course, we have glues at Buddings, but that's the eco-friendly nature class! I wanted to tell them how we can create what we need. So we made a homemade glue with flour and water! If we buy them, the plastic container always comes with them, and it's going to be a garbage after we finished them. If we could make it, we won't create any garbage at all. Also if a baby put it into their mouth by accident, no problem! It's just water and flour!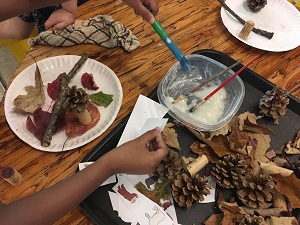 Let's talk more about how awesome the autumn is in my BKC with me!
Come enjoy a nature craft on Wednesday at Broadway Buddings!