"A hero is a person who is really intent on
making the world a better place"
- Maya Angelou
Fire Fighters
During our first month of BKC, we celebrated fire fighters! 
First we examined what it meant to be firefighters. Our buddies shared that firefighters put out fires, but we talked about how their job goes beyond that!
They save people, help out those in need, and during our field trip, we learned that they accomodate firehall tours for big kids like us!
We made our own firefighter uniforms, made our own firefighter badge, and practiced what it would be like to save the day.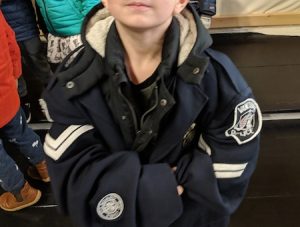 Police Officers
For all of January we learned about police officers. 
We asked our buddies what police officers do and initially they all agreed that they are responsible for putting bad guys away.
But we elaborated on this thought and discussed that police officers are responsible for keeping the world safe by making sure everyone follows the rules. 
Medical Professionals
We started our final section of everyday heroes by learning what medical professionals do best: keeping our bodies healthy!
So we learned about germs, and we practiced how it can be spread through contact using bright green paint.
We also went on our fieldtrip to the Ambulance Station and discussed the roles of paramedics in a hospital workplace. We enjoyed the fresh fallen snow while we were at it!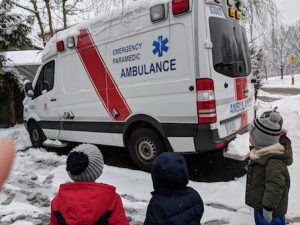 Our medical professionals unit is not over yet!
Don't miss out!
Our Everyday Heroes class happens every Tuesday from 1 - 4 pm.