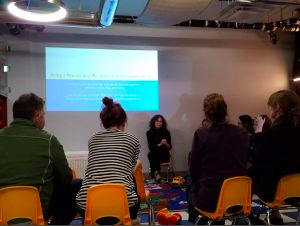 Last Friday, old friends and new gathered at Storybook Buddings for an evening of popcorn, potty training, and preschool info. Thank you to everyone who came!
As the host of the Buddings potty training video, I took the lead on all things bathroom-related, and there were no shortage of questions!
Here are a few highlights:
Q: How long does it usually take to finish potty training?
A: 8 – 9 months, despite what those 3-day potty training guides might have you think!
Q: Potty training was going well, but now we've had a few bumps in the road and my child refuses to use the potty with me. What should I do?
A: Try giving your child choices that lead to success. For example, "Do you want to try the potty now or in two minutes?" instead of "Do you want to try the potty?"
Q: My child doesn't seem interested in the potty at all. How can I encourage them?
A: Model using the toilet for them at home. Kids usually like to copy their parents! Also, try incorporating the potty into their pretend play. Take dollies or stuffed animals to the potty. Pssst….coming to daycare helps, too!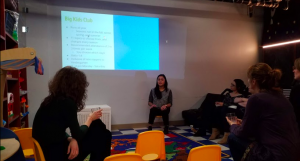 Our Big Kids Club coordinator Ehlssie closed off the night with a talk about what preschool is all about, and how our Big Kids Club program fits into the preschool landscape.
The Big takeaways:
Social and emotional skills are the most important skills for school readiness; we focus on building these skills in Big Kids Club!
Most preschool programs have set schedules; Big Kids Club runs every day from 1 – 4pm, and you can book in flexibly!
Big Kids Club has a 1:4 ratio of teachers to children; preschool has a 1:10 ratio.
Big Kids Club classes change every season, run all year long, include weekly field trips, and are created  with the kids' interests in mind!
Stay tuned to our newsletter for an upcoming video all about Big Kids Club. Our attendees got a sneak peak!
Shout outs:
It truly takes a village (of amazing women) to make nights like these happen. A big shout to Kezia for her technical wizardry, and to Talia for all of her help fielding questions!