The days are flying by, cool and wet, but warm in the sunshine, and we're gearing up for our annual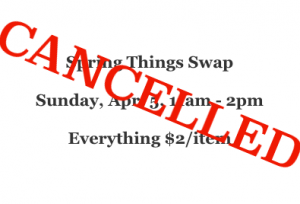 As usual, we will be accepting any and all infant- and child-related clothing, toys, books, and accessories.
You can drop them off at either of our daycares until Fri. Apr. 3 to get your first 10 items FREE – but…
the event happens at 1438 Cedar Cottage Mews, so that would be the ideal place to bring your items.
We've been doing the kids' event twice a year since 2012, and hope to see you there!
What else is new?
We're also hearing interest for an adult (women's?) swap and would love to host! It will be a free event, with snacks to share, likely at the end of the month. If you'd like to participate, or help organize, email Aïda.