What is the Summer Club?
Our new school-age kids program is starting on July 11, running every afternoon from 2:30 - 6pm, at 1438 Cedar Cottage Mews, in East Vancouver.
Summer Club is a chance for the Buddings teachers - experts in early childhood education -  to expand and experiment with engaging 5 - 12 year olds, and a club where kids come together and direct their own learning - all about the season of summer.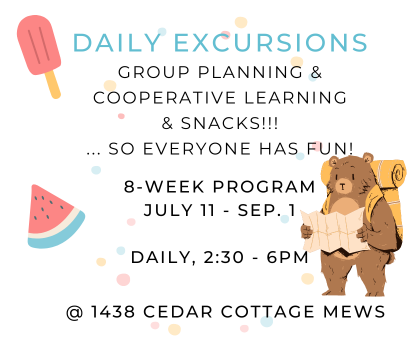 Making the move into older age groups means teachers modify their methods, but our Buddings values will never change. That means inviting appreciation, inspiring responsibility, and leading with love, when it comes to nature, ourselves, and each other. And technology.
School kids in 2023 (k - 12 yrs.) are plugged in. Our program uses videos and online resources to enhance the real life experience. Together. With imaginations engaged, and the tools of our times at the ready, Summer CLUB is a cooperative learning program that lets every member shine.
Environment, Food, Culture, Creatures, and the World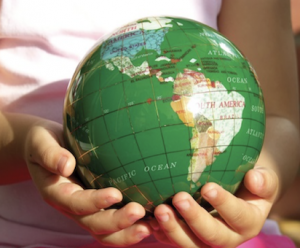 The 8-week program is one of daily excursions, water parks, taking transit, walking through our neigbhourhoods, and when necessary, staying inside. Luckily, our space is air conditioned, because this year, there may be days when it's too hot to go out. 
Or smoke may fill the sky. 🙁
When kids have questions, about climate change, and especially about the future, we will work together to discover the answers.
By focusing on what we can do to help, our summer club is a positive exploration of the world as we know it. 
Family Registration on June 20
When the long, hot afternoons start to drag on, kids can cool it at the Summer Club, every day from 2:30pm.
Registration for the whole summer is just $30 and attendance is flexible, so you can purchase and attend one day a week, a week at a time, and anything in between. Plus, Summer Club members lock in that membership level into September!
A single drop in is $35, and every 5th day is free when you buy in bulk.
To join us for the family orientation on June 20, complete the application here, or email us at bkc@buddings.ca.