Did you know all of our snack recipes are created based on Canada's Food Guide? The guide says having the amount and type of food recommended and following the tips in Canada's Food Guide will help:
-Meet your needs for vitamins, minerals and other nutrients.
-Reduce your risk of obesity, type 2 diabetes, heart disease, certain types of cancer and osteoporosis.
-Contribute to your overall health and vitality.
Also having eating time and snack activities with kids at daycare bring even more meaningful benefits!
I will talk about some benefits of them.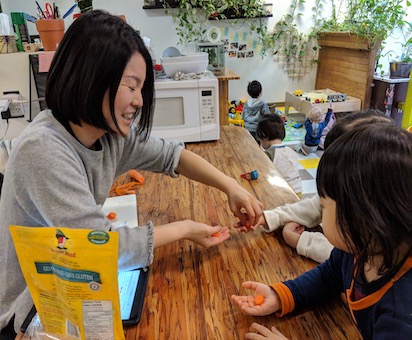 Building children's Imagination and Caring feeling
For example, Let's say...apple muffins! First off, we need to get apples. Just go to a grocery store and pay for them. Sounds easy. But actually, many of unseen steps make it easy. Where are the apples come from? From the ground? No! Sometimes, some kids say "Maybe there is an apple muffin tree!" Unfortunately, No. They are from trees at a farm or a garden. There are a lot of people involved like farmers, gardeners, pickers, packers, or drivers to bring them to the store. What about the money to pay? Does somebody give it to us? Goodness, No! We spend our time and efforts, and earn them.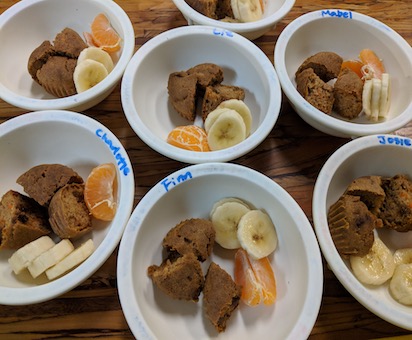 We, adults know the process because someone could have told us about it. That's why we can be thankful for foods and try not to waste them. What about the children? They learn a lot of thing through their own experience. They know things that they have seen and heard. So we believe that it is important to do cooking activities with the kids by showing how the snacks are made, sometimes introducing even growing the ingredients. It is helpful for improving their imagination and caring feelings.
Develop your brain and build chewing power
Chewing foods stimulate the brain, especially, the satiety center. And the stimulation helps to prevent overeating and reducing your stress as well. Childhood is the period of practicing to eat and chew. Providing chewing foods step by step, like starting from veggie soup, pasted potatoes to chew with baby's gums, and boiled carrots to bite with toddler's teeth will improve the children's Muscles of Mastication (Chewing).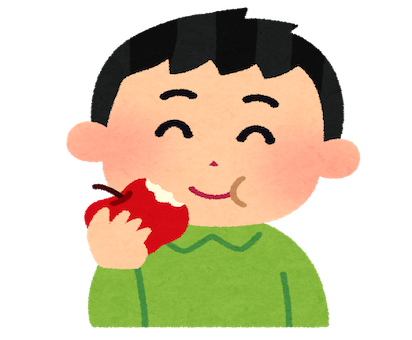 Though I've talked about a lot of things so far, there are no answers to parenting. The best thing is that enjoying the time together whatever you eat. It makes the taste yummier, and stimulate their appetite 🙂
Happy new year everyone!!