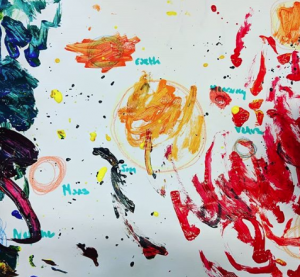 This Winter, Sarah and I are co-presenting our Big Kids Club "Up" class at Storybook on Mondays, and while the topic encompasses everything over, around, and under the Sun, it's also a philosophical question about direction.
Sarah introduced the class in December, and we've been instagramming our progress, including videos of our new birds, but for my January update post, I'm taking the opportunity to reflect on where we've been, and chart a course for the future.
In 2018, Buddings Daycare…
✔ Took its 8th planetary voyage around the sun (with the rest of the world in tow!), and doubled its care offerings in Vancouver, with the opening of our East Van location at Knight and Kingsway.
✔ Was featured in the news and received government acknowledgement for our mold-breaking flexible daycare model, but…
✔ We served more than 400 families that year, so we were already pretty sure we were onto something big. (Sarah's working on it, and all 400+ tax receipts will be issued by the end of February…)
Unfortunately, the year ended before action could be taken on our advocacy issues (including subsidy eligibility for families), and the busy holiday season also put the brakes on our program attendance, and business expansion plans.
So… we have goals to work towards in 2019!
Continue to work with advocates and government so "flexible childcare" qualifies eligible families for the childcare subsidies and benefits offered at all other licensed programs. Who knows, maybe we'll be able to influence Canadian policy, too!
Rebrand and redefine the Big Kids Club – our original socially- and environmentally-minded program for preschoolers has been part of our flexible daycare service since 2013, but in 2019, we're launching it more broadly, and highlighting the many ways today's teachers are engaging Vancouver Big Kids of all ages towards sustainability and inclusivity.
To facilitate both of the above, we're also excited to launch an updated version of our proprietary daycare administration software – and spin it up so any daycare can include flexible care in their offerings.
What's going to work? Team work!
If it weren't for Sarah, and Ehlssie, Kezia, and all the Buddings ladies, I would not be writing this blog. I wouldn't have time for thinking these BHAG ideas or, for that matter, thinking at all. I'd be insane. As the company has expanded, and my goals have grown, I've been so lucky to have the amazing teachers who step forward to help me.
I couldn't manage the responsibility by myself, and in 2018, I also realized that I  don't have to.
Watch out, world!
On Saturday, Jan. 19, both centres will be closed for the day, so our team can take a step back, to engage with the wider picture. It's our third annual strategic planning session, and we'll be charting our course for 2019, and the future.
Things are looking up!