absolutely free
everyone's invited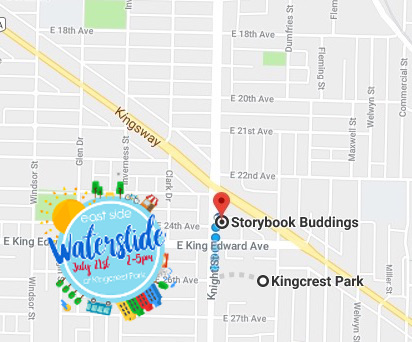 On July 21, from 2 – 5pm, join us for an afternoon of waterslides and watermelons, at the Buddings Daycare Summer Party: East Side Waterslide.
The 80′ long slide is suitable for 2 – 3 year olds, and fun for kids of all ages (adults, too!).
Phone a friend, pack a picnic, screen up with sun screen, and meet us at Kingcrest Park – at east King Ed and Kingsway.
Starting at 2pm, DJ Spinout returns to spin in the park, our watermelon carving contest continues, and the floaty or tube makes all the difference on the slide.
Win a floaty on Instagram!
The sun rises earlier on the East side, and our colourful neighbourhood has a lot to offer. What does East Van mean to you?
Draw it!
Our waterslide poster has room for any interpretation, and if you post your pic on instagram, you could win a waterslide ride, on a unicorn floaty.
Click here to download the sheet, and follow the instructions to be entered to win!