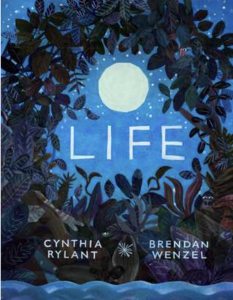 Life starts small. And then it grows. 
One of our favourite books, by Cynthia Rylant and Brendan Wenzel, Life, teaches us that every animal loves their environment, and feels comfortable and grateful for the things they have, and what they learn from it. 
This inspiration leads us out of the long dark winter, and into a new season of play and learning, in which not only animals and children are growing, but so are their talents, and their love.
Join us!
Something Growing Everyday!
In the spring, babies are cracking and hatching, spawning, and learning to stand on their own two... feet. Well, not snakes. But they are slithering into a new world, warmed by the spring sun.
The kids are growing too!
Their talents, skills, and interests are developing, and so are their bodies, and families. New babies come into our lives all year round, and their first spring is special! Even the flowers are like confetti raining down in celebration! 
Let's plant a garden!  
Spread love, and examine the tiniest world of all: insects! Our crawly friends aren't creepy! They are amazing! 
Explore them with us this spring, as we embrace the whole wide world, Monday to Friday, at both centres, from Mar. 6 - June 2.





March into March... Break!
March Break Camps: Mar. 13 - 24, 2023
Schools are closed, but Buddings is here for the kindergarten kids, so come back and explore! 
We can learn a lot from books and videos, but to really know the world, you have to be a part of it! This spring, we'll be fieldtripping to some of our favourite local parks and gardens, and getting further afield - by bus! - to enjoy everything our beautiful city has to offer. 
Seaside adventures, and forest explorations, maybe even a mountain or two! Vancouver is a naturalist's paradise, and both of our centres have convenient access to our amazing transit system. Kids of all ages are welcome to join our outings, so bring a hat, and rainboots, so we can go out in any weather. 
See you this spring!
For families in need of full-days or part-time childcare over the school or daycare breaks, we will be open from 9 - 5pm, with up to 8 spots available. Don't forget your membership is good at both centres, so check the calendars for the spots you need, with 3 chances to book! For full-day camp packages please email membership@buddings.ca to enquire.