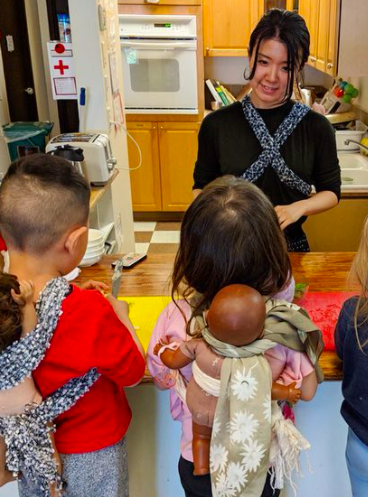 Ayumi Kato and her partner had only been in Canada for a few weeks when she first joined the Buddings team in 2017. She had worked in daycares for 10 years in Japan (she got her Early Childhood Educator's degree in 2007), and her confidence with the kids and bright smile immediately lit up the room.
Her Big Kids Club classes have tackled all the classic preschool motifs, and last summer, she taught the kids how their bodies work, while her own body grew and changed. She left us last October, and a few weeks later, her baby girl Aoi brightened her smile even more.
Our expert ECE is now also a mom, and she's excited to bring that experience back into her practice.
When Ayumi's behind the counter, all the kids come running! When she sets up music, they make beautiful music together, and when Ayumi comes back to Buddings Broadway in January, all the kids, all the teachers, and all the families, are in for a special treat! Her easy approach, calm kindness, and endless patience are just some of the attributes you're going to love about Ayumi!
Her return in 2021 is a sign of good things to come!