One of the best compliments that we receive during snack time is when children ask us for seconds. "More please! More please!" brings a smile to our faces, especially when we provide delicious food that can fit anyone's dietary restrictions. Over the last few months we've had a few standout snack recipes and we wanted to share some of them with you. We will be updating this blog post often, so make sure to come back and check it out periodically!
Instant Pickles!
This easy and delicious recipe is made by bringing vinegar and spices to boil and pouring them over vegetables! With ours we use fresh dill, mustard seed, cumin, all spice, garlic, cloves and a little salt and sugar. They were delicious! When pickling vegetables, there are countless options!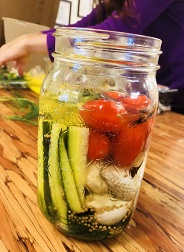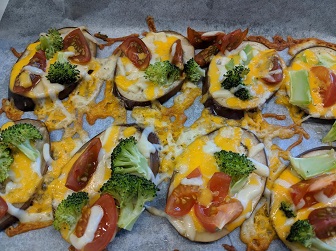 Eggplant Pizza!
What a hit and a great way for kids to get their vegetables! Eggplant is the base and you can follow your imagination in any direction! Here we did broccoli, tomato and dairy free cheese "pizza." Enjoy and have fun!
Vietnamese Pizza!
Another exploration into the "pizza" world.  This time with rice paper sheets as the base and vegetarian toppings! Check out this link for a traditional recipe, although we used it more as inspiration. It was fun to come up with our creations, we can't wait to hear what you make!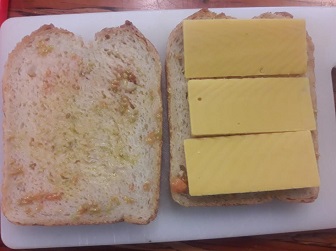 Pa amb tomàquet!
Have you ever had this before?! If you haven't it's really worth your time! Kids and adults love it and it's so easy to make 🙂 It can be the base for any sandwich, or just as a snack by itself! This Catalan recipe is simply tomato rubbed on bread with olive oil and a little salt. Give it a shot! We guarantee you won't be disappointed!
Pazham Pori with Rice!
In July around the world we tried foods from many different cultures. One of our favorites was Pazham Pori! A dish that hails from India and what a hit it was! There were no leftovers 😉 Fried Banana fritters are delicious by themselves and mixed with rice!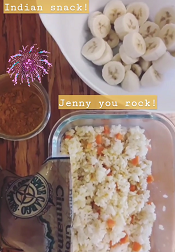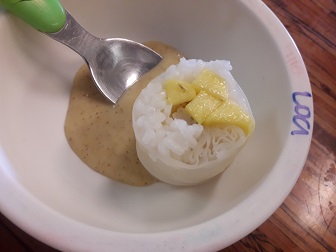 Mango Sticky Rice Summer Rolls!
Today we visited Thailand and we made a version of these Thai Mango Sticky Rice Summer Rolls. What a hit it was! The kids loved it and so did the teachers. The kids were surprised by the shape and it was a fun eating experience! The sauce is a a blend of vegan yogurt, honey and fresh mango! Enjoy 🙂
Blueberry Cheese Cake!
A huge hit and super easy to make! Graham crackers, cream cheese, blueberries and honey! Based off this recipe from Gimme Some Oven. Graham crackers can be replaced with rice crackers if you are looking for something gluten free and we have a dairy free cream cheese that gets substituted for those with lactose intolerance.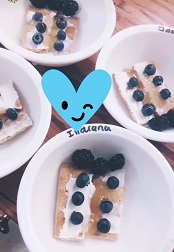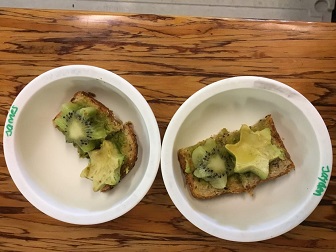 Avacado Toast!
A fan favorite for kids and teachers alike! Nothing goes together quite like avocado and toast. While it's a fairly simple, check out these recipes from 'The Kitchn' for a delicious version for parents too! Add some fruit and you've got a balanced meal!
Vegan Flam!
We discovered this during our June "Around the World" snack month when we visited Catalonia. This recipe is vegan by using Agar Agar as the thickener instead of eggs, it is a gelatin substitute that is derived from seaweed. Check out this recipe, although forgive google for any translation mistakes as this website is normally in Catalan.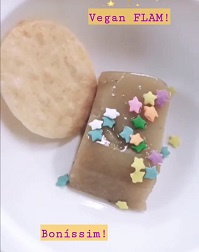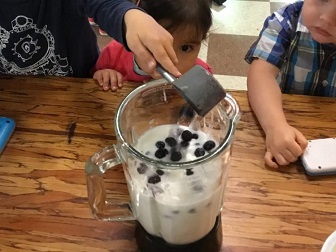 Smoothies!
Smoothies can take many forms and fit almost any diet. Pictured to the right is a purple smoothie in the making, this was made for Rainbow May where we were eating food with a variety of colors.
Melindros (Ladyfingers) !
Another recipe from Catalonia and this one was a hit 🙂 Super easy to make, delicious and all the kids love it! Melindros or Ladyfingers are probably best when dipped in melted chocolate!